Ephesus Upgrades Hawkins Field of Vanderbilt University with LED Lighting System
By: Portia Higgins Tuesday May 24, 2016 comments
ower management company Eaton today announced that the home field of the Vanderbilt University men's baseball team, Hawkins Field in Nashville, Tennessee, has installed an advanced light-emitting diode (LED) system designed to enhance the viewing experiences for spectators while reducing energy use by as much as 75 percent.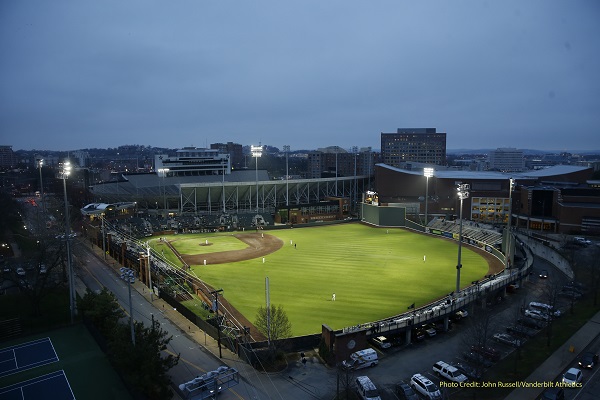 The Vanderbilt University's Hawkins Field in Nashville, Tennessee was upgraded with LEDs from Ephesus. (Photo Courtesy of Eaton)

The Commodores opened their season under the Ephesus Lighting LED system on February 19 against the University of San Diego and play three more night games this week on March 15 versus Northern Illinois University and March 18 and 19 against Mississippi State University.
The new LED system features Ephesus Stadium Pro lights and a DMX control system, which enables dynamic fan experience effects and increases operational flexibility. The lights at Hawkins Field have instant-on capability, eliminating the warm-up period associated with more traditional metal halide lighting products.
"Our new LED lights from Eaton's Ephesus Lighting make Hawkins Field an even better place to play and watch a game," said Kevin Colon, associate athletic director, Vanderbilt University. "As we researched the LED lightingoptions available, it was clear to us that Ephesus Lighting had the best solution from the standpoint of lighting quality, operations flexibility and energy efficiency."
Read the entire article here: http://www.ledinside.com/lighting/2016/5/ephesus_upgrades_hawkins_field_of_vanderbilt_university_with_led_lighting_system